The application of flotation machine in the mineral processing production line is very extensive, and the flotation process cannot do without flotation machine. When combined with air and medicament to create the chemical physical reactions will help users get useful minerals. Concentrate is the final product; therefore, in industrial application of flotation machine, the technical and maintenance requirements should be met. The beneficiation of flotation machine is concise and comprehensive to say that through stirred tank, the pulp and flotation reagent will be mixing, then inflation, thus resulting in a chemical reaction, which can make the particle mixing bubbles attached to the end of the process. The pulp fixtures on the flotation concentrate is scraped out. So, in this process, what are the technology conditions it has to meet?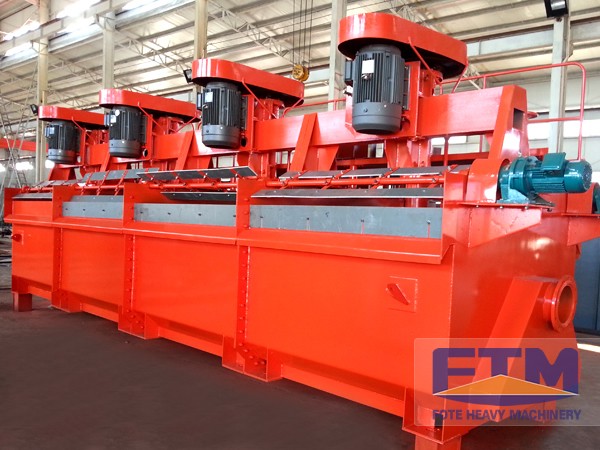 1. The flotation aeration conditions. Because of the different mineral or different flotation, each operation has its appropriate aeration quantity, so the requirement amount of inflatable is adjustable.
2. The stirring conditions of flotation machine: mixing will generate bubble. The stirring intensity should be enough to bubble crushing, mineral particle suspension and agent of emulsion dispersion, so that the slurry concentration in the flotation tank is uniform.
3. Regulation of the conditions: through the liquid level of flotation machine size, whether the slurry content is high or low, the foam layer thickness should be adjustable, so as to adapt to the need of automatic control.
4. Continuous working conditions of flotation machine: in the process of flotation, feed, scraping and discharging need to be continuous.
After meeting the above conditions, the flotation machine can smoothly obtain useful mineral materials in the flotation process. In order to avoid useless things and useless substances mixed in the oil, when the flotation machine operating, the oil cover should be sealed. Fote Machinery is an experienced manufacturer of flotation machine, in addition to agitation flotation machine and mechanical flotation machine, we also produce froth flotation machine and copper ore flotation machine. The flotation machine of our company has favorable price, high performance and complete after-sales service. Customers are welcomed to pay a visit to our company!