Ball mill is mainly used in mineral processing, building materials and other industries, which is the necessary equipment for modern grinding operations of industrial production. Because it has the characteristics of energy saving, high efficiency, high quality and high technology, ball mill is welcomed by the vast number of users, especially the energy ball mill produced by Fote Machinery, which is more subject to a lot of users demand. With the continuous development of industrial milling industry, large areas of industrial milling production line have been introduced to China, the international advanced milling technology are rapidly introduced into China. Through research and development experience and technical upgrading for many years, the launch of ceramic ball mill is suitable for industrial milling industry.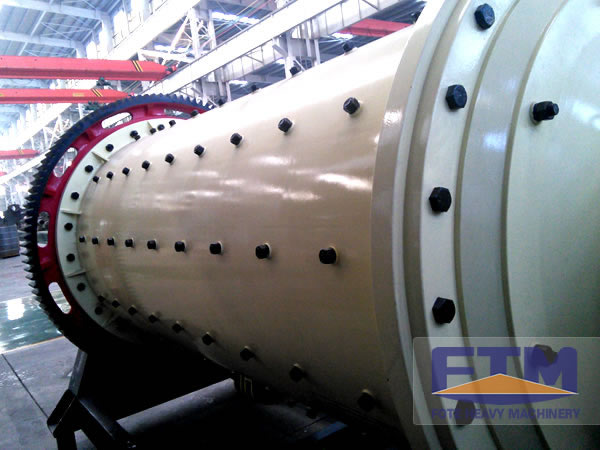 Ceramic ball mill is the necessary grinding equipment in ceramics factory, because it has larger energy consumption, so there is a larger space for saving energy and reducing consumption. It has fine production, advanced performance, high quality and inexpensive price, which is the best replacement of large industrial powder and ceramic renewal fields. It has great advantages in reducing equipment investment, infrastructure investment and the power consumption, and we believe that it can play a greater role in the development of grinding industry in China. The main body of ceramic ball mill is the horizontal cylinder structure, which can be divided into two kinds: the overall style and independent type. The complete machine is composed of a motor, gear, reducer and the cylindrical body.
The working principle of ceramic ball mill is basically the same as the ordinary ball mill. The electro motor drives the cylinder to rotate through the reducer, and the broken ore and the steel balls inside the cylinder are brought by the lining board to a certain height under the frictional force and eccentric force produced by the rotation of the cylinder. Due to the action of gravity, the ores will drop and are gradually crushed under the impacting and grinding effect and the crushed ores will be discharged out of the cylinder through the discharging part. The discharged ores are classified by the spiral classifier, and the coarse sand will go back to ball mill from the joint feeding machine to be ground again. Ceramic ball mill can be used alone, or form the integrated production system with other feeding and screening equipment, it can continuously carry on to the grinding of materials, so as to get the fine-grained products, which is labor saving and cost saving.