Technical Data
Feeding Granularity: ≤25-≤100mm

Processing Capacity : 5-100t/h

Applicable Materials: Pebble, ore, construction waste, glass, cement clinker, granite, basalt, iron ore, quartz, coal, coal gangue, etc.

Applicable Range: To crush medium and high hardness materials in the industries of cement, electricity, chemical engineering, metallurgy, construction materials, etc.
Roller crusher is traditional crushing equipment, which is also called roll crusher, double roller crusher and teeth roller crusher. it is suitable for crushing medium hardness materials, such as limestone, slag, coke, coal, granite, basalt, calcite, iron ore, marble, pebble and other materials in cement, chemical industry, electricity, metallurgy, building materials, refractory materials, etc. Roller crusher has big adjustable discharging granularity, reliable operation, simple structure, high crushing efficiency and output, etc, which can crush materials whose comprehensive strength is equal to or smaller than 160Mpa.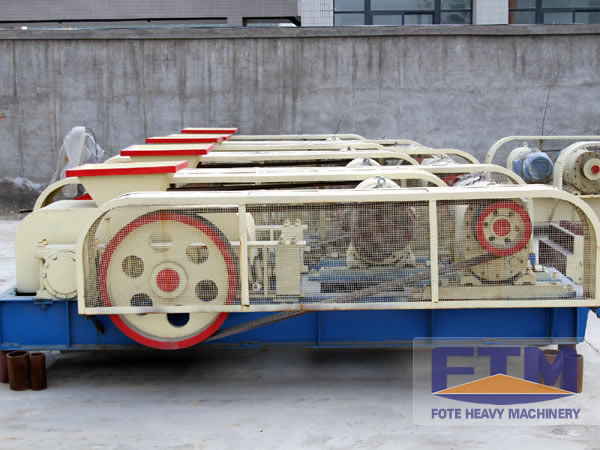 Pay Special Attention to the Following Matters During Operation of Roller Crusher:
1. Strength the iron removing work. The materials that cannot be crushed like drill bit can damage the crusher if they fall into the rollers, thus causing parking accident. So, the crusher should be equipped with iron removing device.
2. Sticky materials are easy to jam the crushing space, so, we should stop the crusher to deal with jam fault. Do not clear the stemming during running.
3. When handling bulk materials, attention should be paid to lump ores which are easy to squeeze out from the crushing space in case of injury or damage to equipment.
4. After running for a long time, it's easy to cause over fine product granularity due to larger abrasion of roller surface. At this time, we should adjust discharging opening or conduct maintenance of equipment.
5. Strengthen the inspection of roller crusher spare parts and timely oiling the lubricant housings so as to keep equipment in good lubrication condition.
Fote Machinery is a professional roller crusher manufacturer and large or small roller crusher supplier, we also have other kinds of stone crushing equipment, if you want to know information about roller crusher price, please leave us a message below or send us emails to info@sinoftm.com, we will contact you as soon as possible.
Our customer
FTM has equipment installed throughout the world in areas
such as South Africa, Middle East, West Asia,India, Philippines, Western Europe, Southeastern Asia.