With the rapid development of economy and modern industry in China, the demand of industrial raw materials from all walks of life also increases. As the material processing equipment, magnetic separator also has wide development space. Wet magnetic separator is a kind of magnetic separation equipment for the separation of iron powder, which is usually used in the magnetic separations of sand factory and iron powder separation operations. Wet magnetic separator can also be used for the pre concentration of low grade ore and pre enrichment of ore resources, which can improve the ore grade in the mill and reduce the mineral processing cost. Such a large demand in the market, a variety of magnetic separation machines also have emerged like mushroom, which greatly enriched the separators market, and the emergence of wet magnetic separator has injected fresh blood to the magnetic separation machine market, so as to lead the separator industry into another new development stage.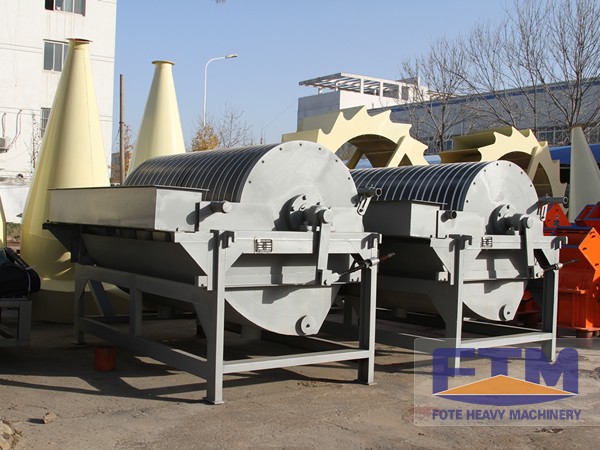 On the original basis of magnetic separation machine, Fote Machinery has successfully developed wet magnetic separator equipment through exclusive design and research. In magnetic separation plants, except as a separator, in recent years, wet magnetic separator is also used for concentrating equipment to replace the magnetic dewatering tank. The magnetic system uses high-quality ferrite material as well as compound rare earth and permanent magnet, the drum surface of the average magnetic induction strength is 100 ~ 600mT. We can provide downstream, half counter current, counter current type and other different forms for strong magnetic separator based on different needs of customers. The production process for magnetic separator is energy saving, which can effectively use the extremely lean iron ore and improve the quality of iron concentrate. It has especially important significance. The process of Fote wet magnetic separator can crush ore finely to 5mm or 3mm, and then use the permanent magnetic field intensity magnetic separation machine for wet magnetic separation of tailings. Since its inception, magnetic separator has been unanimously recognized by magnetic separation machine industry and customers.
Fote Machinery is in the development concept of with quality to survive, with credibility to develop , and strives to create a customer satisfaction brand enterprises. To allow customers to buy the assured products with enjoyable motion! All the products designed, manufactured and installed by our company, we are willing to work with the latest technology, reliable quality, favorable price and perfect service to provide satisfactory products for you. Welcome friends from all circles to visit us. If you want to learn more about the magnetic separation machine manufacturers and magnetic separator price, please get in touch with us!