Gravity Spiral Chute Description
Graqvity spiral chute is also called spiral chute or spiral chute separator, is the best equipment in mining and ore dressing industries, which is often applied to sort materials with size 0.3 - 0.02 mm, such as ilmenite, chromite, pyrite, zircon, rutile, monazite, phosphate, tungsten ore, tin, tantalum, niobium ore and other non-ferrous metals, precious metals and non-metallic minerals.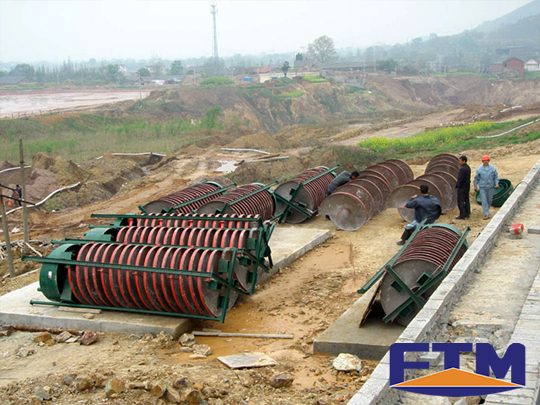 Advantages of Gravity Spiral Chute
1. The spiral chute for sale is made of special PVC plastic, which is light and free from moisture, rust and corrosion;
2. It has small friction coefficient, high productivity and easy access to coal;
3. It is flame retardant and antistatic;
4. It has reasonable structure, and the floating coal can be cleaned easily.
Tips for Maintenance of Gravity Spiral Chute
Before starting spiral chute in mining, you should check whether the rotating direction of motor can meet the operating requirements. You should not dig out materials directly by hand or with other instruments during when the spiral chute is working. Materials in the tank are necessary to be cleaned up to prevent impurities entering into chunks. If rice stalks, straw and other fibrous impurities are found in the trough, you should stop it immediately.
Fote Machinery as professional manufacturer dealers of spiral chutes in China has been committed to technological research of machinery, which has top production equipment and professional R & D team to create spiral chutes of reasonable price and best quality! Experienced experts can also provide you with specific spiral chute processing information for free. Fote Machinery is your ideal choice for investment in beneficiation industry, we can provide the information about China spiral chutes price.
Related Products